SKILLS COMPETITION IN TREBIŠOV
Ak si chcete túto správu prečítať v slovenskom jazyku, kliknite TU
During the final round of CJHL Eagles division (Trebišov, March 22.-24.) players competed not only in games, but also in SKILLS COMPETITION. Players measured their abilities in 5 different competitions:
- Accuracy Shooting
- Puck Control
- Team Relay Race
- Hardest Shot
- Longest Save Streak
Competition started with "Team Relay Race". Four skaters and one goalie from each team joined this event. The best performance was showed by MŠKM TREBIŠOV represented by: Ján Čopák, Rastislav Zamborský, Alan Kudrna, Richard Zrník and Adrián Károlyi (G). On the second place finished HK Partizan Beograd, third place belongs to Debreceni Hoki Klub.
Continued with "Puck Control" event that includes three skills: (1) Stickhandling, where a skater controls a puck through a series of eight barriers; (2) Cone Control, where a skater controls a puck through a series of eight cones in a zig-zag formation; and (3) Bucket, where a skater must put puck into the bucket. The fastest time was achieved by Daniel Alexander Jenčko from MŠKM TREBIŠOV. With time 31,88 s. he became a winner of "Puck Control". On the second place was Klimentii Lysak from HK Halycké Levy Novojavorivsk (36,28 s.) and on the third place Lonid Bulgakov (37,79 s.) from HK Partizan Beograd.
Next competition was for the goalies - "Longest Save Streak". Adrián Károlyi from Trebišov became a winner. He made the longest saves streak (5) while he was succesfull in all shootout against him. On the second position were Antoni Gauvin (Poland Select) and Gleb Artsatbanov (HK Partizan Beograd) both with 3 consecutive saves.
Ihor Nikolaevycy (Novojavorivsk) won next competition. In "Accuracy Shooting" players had 12 pucks shooting on the 5 hole target in the net. Each sucessfull shot meaned points - bottom holes 1 point, upper holes 2 points and middle hole 3 points. Two extra points was added in case that player shooted each hole at least once. Ihor made 13 points (11+2). On the second place were with 9 points Michal Wiwatkowski (Poland Select) and Daniel Alexander Jenčko (Trebišov).
As the last was the "Hardest Shot". Two players from each team shoted two pucks. The strongest shot of CJHL FINAL SIX was presented by Denys Melnyk from Novojavorivsk. Both his shots had 129 km/h. On the next "medal" positions finished Daniil Karpovich (Beograd) with 123 km/h and Dávid Mikloš (Trebišov) with 120 km/h.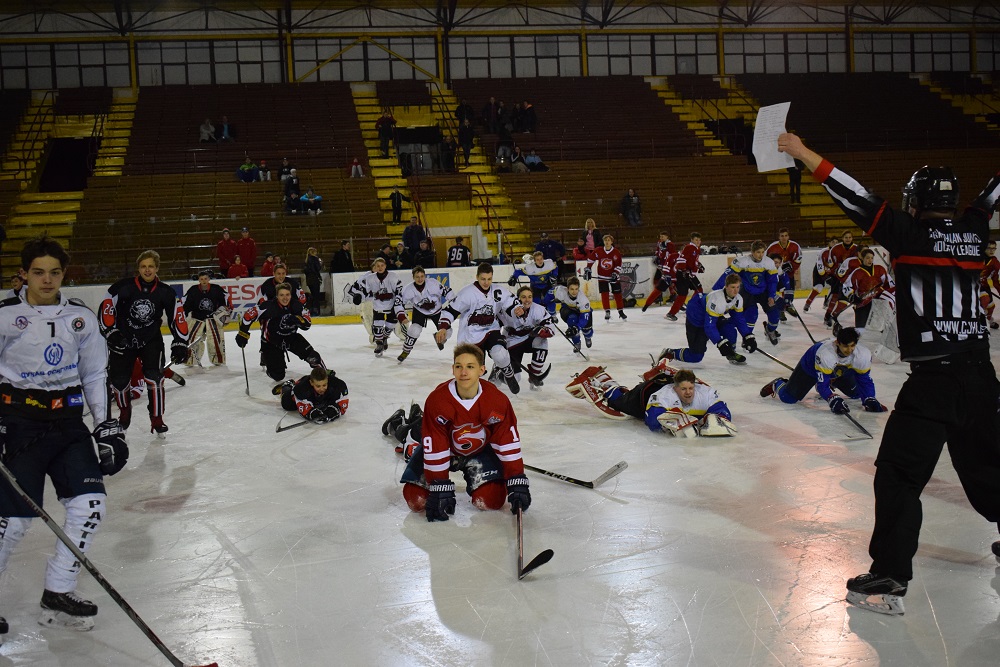 The best players in each competition were awarded by trophies. The best team (according to points achieved in all disciplines) was honored with interesting prices. Special thanks belongs to Jurek "Jerzy" Skopinski, coach of Poland Select, who made really good fun on ice for players and fans as well.
SKILLS COMPETITION TEAMS RANKING:
1. MŠKM TREBIŠOV
2. HK Partizan Beograd
3. HK Halycké Levy Novojavorivsk
4. Poland Select U15
5. Kryzhynka Kyiv
6. Debreceni Hoki Klub

Video from Skills competition you could find on youtube channel of Carpathian Junior Hockey League. Skills competition was sponsored by MULTI šport Michalovce and its partner HockeyRevolution.