GOALS LEADER OF WOLVES DIVISION
Ak si chcete prečítať tento rozhovor v slovenskom jazyku, kliknite SEM
Tell us something about your start in hockey. How did you get involved in hockey and where did you take your first steps in hockey?

I've been playing hockey since I was six years old. My parents took me to a hockey arena in Michalovce so I could learn to skate. And I liked it, so I started playing hockey, too, and I still enjoy hockey today.
Do you still remember your first coaches? Can you highlight some of the coaches who have or had a major impact on your hockey growth?

I began with coach Slavomír Stripai, and later I was coached by Martin Stripai and Ján Haluška. In the higher grades by Tibor Tartaľ. I learned a lot from every one of these coaches, something different from each, but Peter Štekláč, who has coached me in the past two seasons, probably pushed me the farthest.
Do you have a hockey model or a favorite hockey team?

My hockey role model is Patrik Laine. I've liked him from his start in international competitions, and my favorite hockey team is the Winnipeg Jets.
What would you like to achieve in hockey? Do you have a hockey dream?

My hockey dream is to play for the Slovak national team and certainly to play in the NHL.
If you didn't play hockey, is there another sport you would have focused on competitively?

Aside from hockey, I also like playing floorball, but hockey is probably the BEST for me.
You did well this season both in the home competition and in the Carpathian Junior Hockey League. Do you have a secret recipe for scoring goals?

I don't have a secret recipe. Maybe it's just that you have to enjoy the game and play with your heart.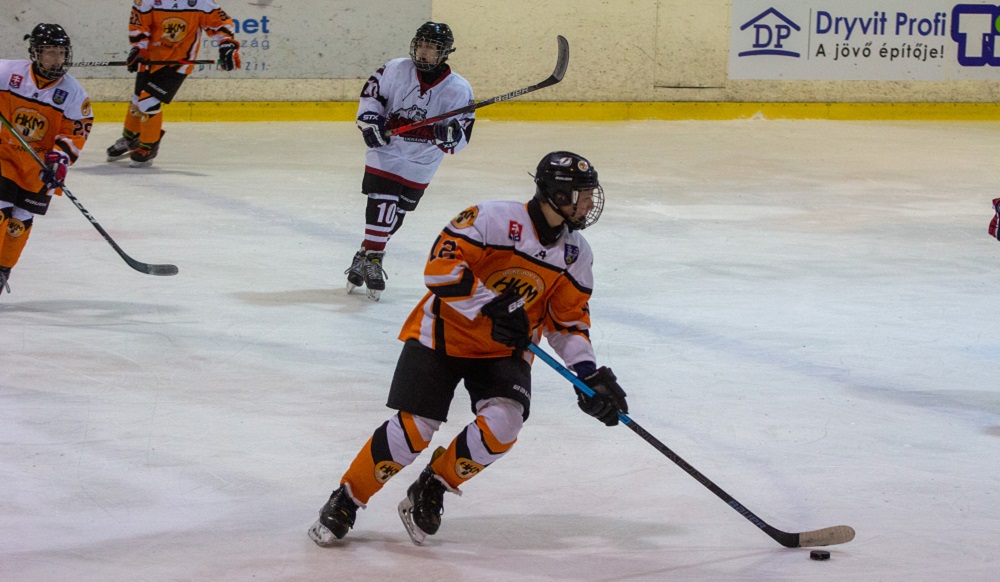 You scored 19 goals in 14 games in the CJHL, which was ended prematurely. You became the best scorer in the U14 category. Do you have a special place for hockey trophies at home?

Yes, I have a display case in my room where I put all my trophies. There is still a lot of free space in it. :)
This was your first season in CJHL. How did you like it? How did like playing against foreign teams?

I really liked playing in the CJHL. I rate it really positively. The foreign teams were of good quality. Every experience of this kind is a plus for us.
You took third place in the group, which was mainly due to your worse results in the first round. What do you think was the reason for the weaker start to the season?

At the start of the season we were still finding our way, getting used to playing with other teammates from younger category, but during the season we played as a team and created a good group, which was evident in other results.
The leader of the group was Sanok. You didn't score a single point with this opponent, even though the results were close. What made the Polish better?

The Polish were skilled. Maybe they were better equipped physically, but during the season we showed that we can play a nice game with them as well. Personally, I prefer playing against stronger opponents. This is a challenge for me, and I enjoy such games even more.

It was in Sanok that the final round was supposed to take place, where you were to play against the best teams from the second group. The ALL STAR game and skills competitions were also planned... Isn't the early end to the season all the more sad?

It's definitely sad. This would have been an interesting end to the CJHL season. It would have also been interesting to measure our strength in the ALL STAR game. We would have definitely battled for a highest place in the standings.
The coronavirus pandemic prematurely ended not only the hockey season, but also closed schools, cinemas, shops... How are you spending your time at home?

I mostly study at home. I also ride a bike to improve my fitness. Aside from that, I try to train and work on myself.
What do you miss the most during this time? What are you most looking forward to when the pandemic measures are lifted?

I miss my friends and practices the most. That's what I am looking forward to the most right now.